Senior Information
CONGRATULATIONS CLASS OF 2022

Cap, Gown and Tassel - $39.00 + 7% tax = $41.73 through March 12th.
Graduation gowns are custom made according to your height and weight.
 Graduation caps are one size fits all.
Click the link below to order and pay directly online 
By mail:  Personal check, cashier's check or money order is accepted.
Mail payments to:
If you are interested in a class ring -
Please call 317-731-5413 and Herff Jones will work directly with you for sizing.
Questions:
Your Herff Jones Representative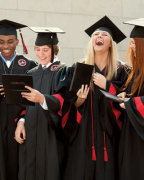 Inter-State Studios - Senior pictures
Upcoming:
10/14 - Last chance to have your Senior picture taken
*Graduation May 28, 2022

Graduation - Case Arena - 10:00a.m.
Doors open at 9:00a.m.